Made in Japan
Japanese manufacturing, by tradition, carries an implicit commitment to perfection, quality and attention to detail. Commissioning Gramo to this ancestral heritage ensures the quality and precision of our frames in a fair trade model, respectful and free of exploitation.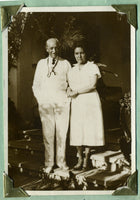 Our History
Our family has been dedicated to the vision for generations. Dr. Graue Glennie, our great-grandfather, opened his first ophthalmology office in 1898, in the center of Mexico City, followed by our grandfather, Dr. Graue Díaz-González, in the street of Oaxaca, Roma neighborhood. Later they are followed by our father, uncle, brother and cousins. Over 124 years, Graue ophthalmologists have cared for the eyes of thousands of Mexicans.
With all that experience, tests, sketches and research, eight years later we created Gramo, our brand of lenses, the first to be designed in Mexico and manufactured in Japan.
Read More
Nuestros armazones
Todos los armazones Gramo, combinan la riqueza del diseño mexicano con la durabilidad y calidad de la manufactura japonesa.
Nuestros lentes de vista y sol, son hechos a mano de acetato de celulosa comprimido, por artesanos japoneses, comercio justo, alma de titanio, diseñado en ciudad de México.
LENTES DISEÑADOS EN MÉXICO
Nuestros lentes diseñados en México están fabricados en Japón con los mejores materiales, incluidos el titanio y el acero inoxidable, con técnicas clásicas y atemporales. Nuestros lentes son diseñados en México, teniendo en cuenta estilo y funcionalidad. Contamos con una colección de lentes oftálmicos y gafas de sol para satisfacer todas las necesidades. Desde aviadores clásicos hasta diseños modernos, tenemos los lentes perfectos para todos los gustos.